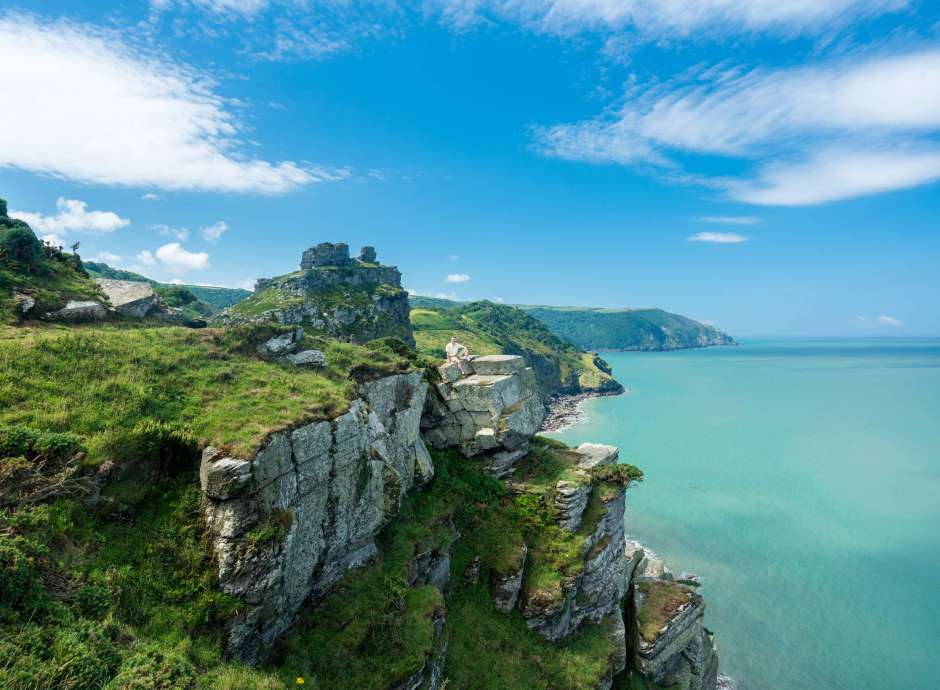 Captivating Wonders

To Discover

Nestled in the picturesque county of North Devon, The Park Hotel is a charming destination that offers a perfect blend of tranquillity, natural beauty, and exciting attractions. Whether you're seeking a relaxing getaway or an adventure-filled vacation, North Devon has something to offer for everyone.

In this blog, we will explore five must-visit attractions that will make your stay at The Park Hotel truly unforgettable.
Scroll
1. Exmoor National Park
Immerse yourself in the breathtaking landscapes of Exmoor National Park, a short drive from The Park Hotel. With its rolling hills, heather-clad moors, and rugged coastline, this protected area is a paradise for nature enthusiasts. Explore the park's extensive network of walking trails, go hiking or cycling, and keep an eye out for the famous Exmoor ponies. Don't miss the stunning Valley of Rocks, a dramatic collection of ancient rock formations overlooking the sea.
2. Lundy Island
Embark on a memorable boat trip to Lundy Island, located off the coast of North Devon. This remote island is a designated Marine Conservation Zone, offering unparalleled opportunities for wildlife spotting. Discover the island's rich history, visit the 13th-century Marisco Castle, and explore the diverse habitats, including grasslands, woodlands, and cliffs. Keep an eye out for puffins, seals, dolphins, and the occasional basking shark. Lundy Island is a true gem and a must-visit during your stay.
3. Clovelly Village
Step back in time with a visit to Clovelly Village, a unique and enchanting coastal village just a short distance from The Park Hotel. Famous for its steep cobbled streets and picturesque harbour, Clovelly exudes charm and character. Explore the village's timeless beauty, visit the quaint cottages, and enjoy panoramic views of the Bristol Channel. Don't forget to indulge in some traditional Devonshire cream tea or fresh seafood at one of the local eateries.
4. RHS Garden Rosemoor
If you appreciate the beauty of flowers and gardens, a visit to RHS Garden Rosemoor is a must. This world-class garden, located near Great Torrington, showcases an array of stunning plants, vibrant blooms, and meticulously designed landscapes. Take a leisurely stroll through the enchanting gardens, discover hidden corners and tranquil pathways, and enjoy the peaceful ambience. With themed gardens, a kitchen garden, and a beautiful arboretum, Rosemoor is a true horticultural haven.
5. Tarka Trail
For outdoor enthusiasts and cycling enthusiasts, the Tarka Trail offers a fantastic opportunity to explore the scenic landscapes of North Devon. This 180-mile route follows the footsteps of Tarka the Otter, the famous character from Henry Williamson's novel. Whether you choose to cycle, walk, or even horse ride, the trail takes you through idyllic countryside, charming towns, and along the picturesque Taw and Torridge estuaries. Rent a bicycle, pack a picnic, and set off on an unforgettable adventure.
A stay at The Park Hotel in North Devon is not just about enjoying the comfort and hospitality of a wonderful hotel; it's also an opportunity to immerse yourself in the natural beauty and diverse attractions of the surrounding area. From the dramatic landscapes of Exmoor National Park to the remote charm of Lundy Island and the timeless village of Clovelly, North Devon offers a wealth of experiences. Don't miss the opportunity to explore the beautiful gardens of RHS Rosemoor or embark on an adventure along the Tarka Trail. Your stay at The Park Hotel promises to be an unforgettable blend of relaxation and discovery.