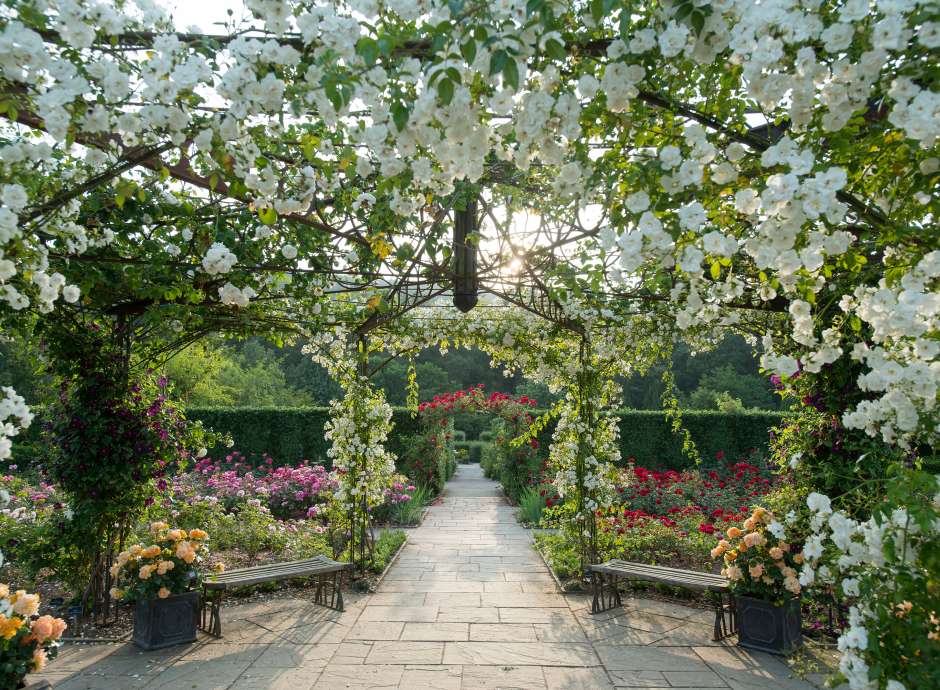 Discover a

Floral Paradise

North Devon, a picturesque region in southwestern England, is renowned for its stunning landscapes and natural beauty. Among its many attractions, the area boasts a diverse range of enchanting gardens that beckon nature lovers, horticultural enthusiasts, and anyone seeking tranquillity amidst nature's splendour.

In this blog, we will take you on a delightful journey through some of the must-visit gardens in North Devon, where you can immerse yourself in vibrant flora, soothing scents, and awe-inspiring settings.
Scroll
1. RHS Garden Rosemoor
Located near Torrington, RHS Garden Rosemoor is a horticultural gem spanning over 65 acres. Managed by the Royal Horticultural Society, this garden presents an exquisite blend of formal and informal plantings. Visitors can stroll through its themed gardens, including the Mediterranean-inspired Hot Garden, the fragrant and colourful Rose Garden, and the enchanting Woodland Garden. Don't miss the chance to explore the fascinating plant collections and enjoy the tranquillity of this magnificent garden.
2. Marwood Hill Gardens
Nestled in a sheltered valley near Barnstaple, Marwood Hill Gardens is a true hidden gem. This captivating garden is renowned for its remarkable collection of plants, including rare trees, shrubs, and perennials. Spanning over 20 acres, it offers a series of themed garden rooms, a tranquil lake, and a charming plant nursery. Take a leisurely stroll along the winding paths, cross the picturesque bridges, and marvel at the vibrant colors and delightful scents that fill the air.
3. Tapeley Park Gardens
Situated near Instow, Tapeley Park Gardens is a delightful blend of history, art, and horticulture. This Victorian country estate features stunning gardens overlooking the estuary of the River Torridge. With its terraces, herbaceous borders, and walled kitchen garden, Tapeley Park offers a visual feast at every turn. Explore the impressive Italian garden, take in the panoramic views, and appreciate the estate's commitment to sustainable practices, which include permaculture principles and organic gardening.
4. Hartland Abbey and Gardens
A visit to Hartland Abbey and Gardens offers a delightful combination of history, architecture, and natural beauty. Nestled in a tranquil valley near Hartland, this medieval abbey boasts stunning gardens overlooking the rugged coastline. Wander through the woodland paths, discover the hidden dells, and admire the formal gardens with their ornamental ponds and colourful borders. Don't forget to explore the exquisite interiors of the abbey and learn about its intriguing history.
5. Arlington Court and Carriage Museum
Arlington Court, situated near Barnstaple, is a National Trust property encompassing beautiful gardens and an impressive collection of horse-drawn carriages. Meander through the picturesque Victorian garden, featuring a colourful herbaceous border, a walled garden, and a charming conservatory. Enjoy the tranquillity of the garden's setting and take a stroll around the wider estate, which includes ancient woodland, a lake, and a delightful chapel.
North Devon's abundance of stunning gardens offers a haven for nature enthusiasts and those seeking peace and beauty. Whether you're captivated by vibrant flowers, serene woodlands, or manicured landscapes, the region has something to offer everyone. From the breathtaking RHS Garden Rosemoor to the hidden gem of Marwood Hill Gardens, the historical Tapeley Park Gardens, the picturesque Hartland Abbey, and the enchanting Arlington Court, each garden invites you to immerse yourself in nature's wonders. So, pack your camera, put on your walking shoes, and embark on a journey to discover the natural treasures of North Devon's gardens.