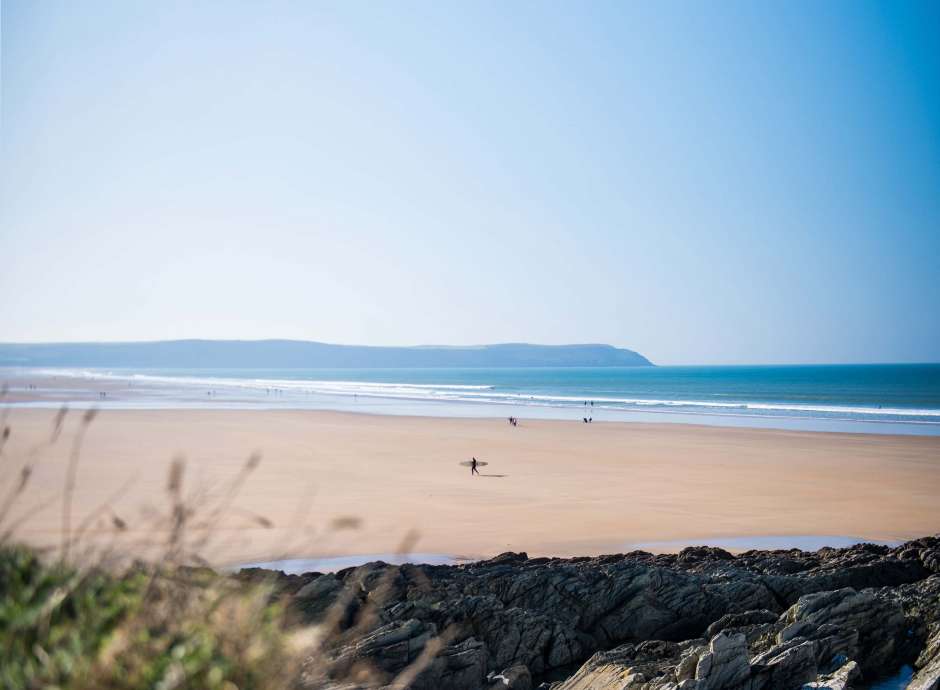 Unveiling the Charm of

North Devon

Nestled in the breathtaking region of North Devon lies The Park Hotel, a perfect gateway to explore the natural wonders and hidden gems of this coastal paradise. With its idyllic location and warm hospitality, The Park Hotel offers not only a comfortable stay but also an opportunity to immerse yourself in unforgettable experiences that are exclusive to this region.

In this blog, we'll unveil five remarkable activities you can only enjoy while staying at The Park Hotel in North Devon.
Scroll
1. Unforgettable Coastal Walks
North Devon boasts some of the most scenic coastal paths in the country, and The Park Hotel is ideally situated to take advantage of these breathtaking walks. Lace up your hiking boots and set off on a coastal adventure, meandering through picturesque villages, sandy coves, and dramatic cliffs. The South West Coast Path, which passes through North Devon, offers stunning views of the Atlantic Ocean and allows you to witness nature's wonders up close. Don't forget your camera, as every twist and turn presents an opportunity for a postcard-worthy photo.
2. Surfing in World-Class Waves
North Devon's coastline is a haven for surfers, attracting wave enthusiasts from around the world. When staying at The Park Hotel, you're just a stone's throw away from renowned surf spots like Croyde Bay and Saunton Sands. Whether you're a seasoned pro or a beginner eager to catch your first wave, there are surf schools nearby that offer lessons for all levels. Experience the thrill of riding the Atlantic swells, feeling the power of the ocean beneath you, and creating memories that will last a lifetime.
3. Exploring Exmoor National Park
Escape into the untamed beauty of Exmoor National Park, a true gem on North Devon's doorstep. As a guest at The Park Hotel, you have easy access to this captivating wilderness. Embark on a guided hike or horseback ride, venturing through ancient woodlands, heather-clad moorlands, and peaceful river valleys. Keep your eyes peeled for Exmoor ponies, red deer, and elusive wild birds that call this enchanting landscape home. With its tranquil ambience and untouched scenery, Exmoor National Park promises a rejuvenating experience like no other.
4. Discovering Unique Coastal Wildlife
North Devon's coastline is teeming with fascinating wildlife, and The Park Hotel provides an ideal base to explore this natural wonderland. Take a boat trip from nearby Ilfracombe and witness incredible marine life, including seals, dolphins, and seabird colonies. If you visit during the right season, you might even catch a glimpse of majestic basking sharks or migrating whales. Immerse yourself in the wonders of the ocean and let the tranquillity of the sea captivate your senses.
5. Indulging in Local Delights
No visit to North Devon is complete without savoring the region's delectable culinary offerings. The Park Hotel boasts a restaurant that showcases the finest local produce, from freshly caught seafood to locally sourced farm ingredients. Treat yourself to a gastronomic journey through the region's flavors, enjoying traditional cream teas, hearty Devonshire clotted cream, and locally brewed ales. Delight in the farm-to-table experience, knowing that you are supporting local businesses and enjoying the freshest ingredients this bountiful region has to offer.
Staying at The Park Hotel in North Devon provides a gateway to an extraordinary array of experiences exclusive to this enchanting region. From captivating coastal walks and thrilling surf adventures to exploring the untamed wilderness and encountering unique wildlife, North Devon has it all. Immerse yourself in the beauty of this coastal paradise, indulge in local delights, and create memories that will stay with you long after your stay at The Park Hotel has ended. Embark on a journey to North Devon and discover the magic that awaits you.